Welcome to Medicines for Roatan!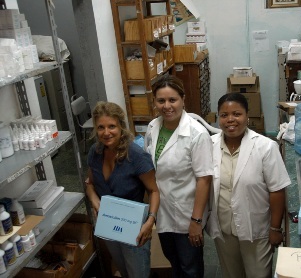 Medicines for Roatan is a Honduran registered charity founded in 2007 (Honduran Foundation 2007000179), in response to an urgent need for medicines at the public health clinics in the Bay Islands of Honduras.

When a pharmacist from the UK first came to the Bay Islands on holiday in February 2005, her host mentionned that the local hospital had been out of most medicines for several months. The hospital pharmacy's empty shelves and the patients being turned away were a heartbreaking sight. As a pharmaceutical industry professional, she set out to help fill those shelves.

Medicines are provided by the Honduran government free of charge at public hospitals and clinics.But shortages are widespread because of an under-funded healthcare system- a common situation in developing countries. Temporary relief is not sufficient: a sustainable solution was needed to provide medicines for the poorest of the Bay Islands' population of 100,000.

Medicines for Roatan was founded to monitor the needs, procure and distribute essential medicines to the Roatan public Hospital and clinics. We have an amazing local team who volunteer their professional expertise and time without monetary compensation. In our first 3 years of operation, we provided enough medicines for over 40,000 patients . In the ensuing years we have donated an additional 65,000 medical treatments to patients of the Roatan Public Hospital. We are very proud of our achievement.

In 2015 upon learning most patients at the Roatan Public Hospital cannot afford lifesaving blood for transfusions and during surgeries, we added Sagra Sangre, a financial assistance program which covers the cost of lifesaving blood for these patients. There is not a blood bank in the hospital nor on the island of Roatan, which means the blood is flown in from mainland Honduras thus incurring transportation cost as well. In 2015 and 2016 we are very proud to have helped numerous patients of the RPH receive much needed blood.

But there is still a lot to do to expand our operations, and we need your help! It costs less than $1 per person per year to provide basic life saving medicines , so every dollar helps! This site answers the most frequently asked questions. Please don't hesitate to contact us for more information.

On behalf of Bay Islanders, thank you!