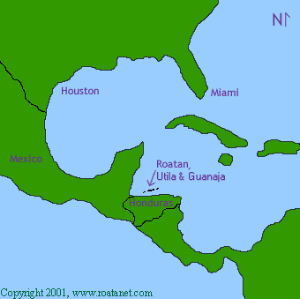 About the Bay Islands of Honduras

The Bay Islands of Honduras are located in the Caribbean, on the Northern coast of Honduras. Honduras is one of the poorest countries in the Western Hemisphere, and 51% of the population lives with less than $2/day (World Bank report 2006).

The Bay islands are renowned for their pristine beaches and for their reefs teaming with marine life. They remain a well kept secret and are mainly an insiderís dive destination. Fishing is the main traditional industry, but tourism is rapidly becoming an important source of income for the islands.

Roatan, the largest island, is approximately 50km long, with one main road and a lot of dirt tracks which turn into torrents of mud in the rainy season. Some fishing communities are only accessible by boat. There is no direct public transport between Roatan and the other Bay islands of Utila and Guanaja.

The population of 60,000 is a Caribbean mix of Hispanic, Garifuna, Carib Indians and Anglosaxon. Islanders are bilingual, English and Spanish. The majority of the population of the Bay Islands lives in extreme poverty, in precarious dwellings without access to running water or latrines (see Photo Gallery). They bear a high burden of disease, with endemic scourges such as malaria, dengue fever and the usual diseases of poverty in the tropics- infections, parasites and HIV/Aids, which affects 10% of the local population (see Medical Need).


---
Top