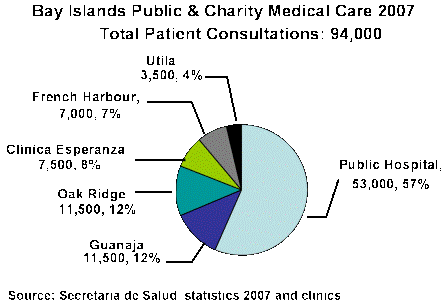 We only support clinics which provide medicines free of charge

We prioritise the allocation of medicines based on the number of patients seen by each facility, and the degree of severity of medical cases

Our top priority is the Roatan public hospital, which has the only 24 hour emergency unit, provides care for largest number of patients and for the most severe cases. Of the 53,000 patients seen at the hospital in 2007, 18,000 were emergencies. Medicines were out of stock 1/3rd of the time . We provided 25,000 treatments. At the moment, our budget only allows us to provide medicines to the hospital.

Our expansion over the next 5 years will depend on our ability to sustainably raise more funds. In close cooperation with Little Friends Foundation, we aim expand in priority to the community clinic in Oak Ridge, because of its isolation on the East side of the island, and because on average 9 out of 10 patients go home without medicines. In the longer term, we aim to roll out the program to public clinics in French Harbour and the 4 clinics in the outlying islands of Guanaja and Utila.

Private healthcare charities often have their own budget and sources of donations. They can also order through Medicines for Roatan to benefit from larger grouped orders.We will endeavor to support them within budget and stock constraints.

See also: Frequently Asked Questions.



---
Top