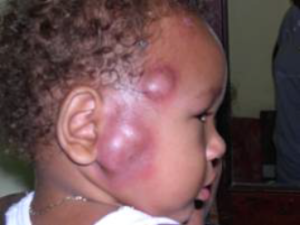 There is an urgent need for medicines for all medical conditions

For example, abscesses and infected flesh wounds are common: most dwellings have no latrines or access to running water, and hygiene conditions are quite poor.

In this environment,if a child scratches a mosquito bite, the wound is likely to become infected. Eventually, the mother takes her child to the hospital. The doctor prescribes dicloxacillin , a common antibiotic but the hospital pharmacy is out of stock. And remains out of stock for 4 or 5 months. The untreated child will be back within a week, her condition will have worsened. By now she has several abscesses and a fever, perhaps a bone infection. She needs to be hospitalised and urgently given antibiotics. If they are not available, the hospital will tell the mother to buy the treatment at a private pharmacy. A typical course would cost $7-10 at a private pharmacy. The mother earns under $2 a day. The private pharmacy helps by selling the treatment one day at a time. The mother borrows and reduces the food ration for the family, to buy the daily dose. If not, the child may die. All for a lack of a simple course of dicloxacillin.

This story is repeated every day, 100 times a day. With prescriptions for lung infections, diarrhoea, intestinal parasites, blood pressure, diabetes, asthma, contraceptives and the list goes on. In theory, patients who receive a prescription at a public facility are entitled to free medicines. But 40,000 islanders (2 out of 3) leave without medicines each year. Chronic shortages of medicines are common in developing countries.

And yet this situation can be changed :It costs Medicines for Roatan on average $1 per person per year to provide basic medicines in the Bay Islands.





---
Top